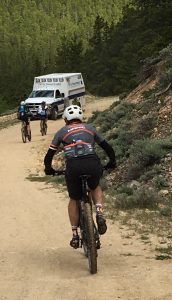 A sincere thank you to all that have pledged support for our fundraising effort, 3 4 E. We are well on our way to our goal of raising some good $$ for Eric's foundation, and bringing more awareness to brain cancer research. It's been fantastic to hear from so many folks that have had similar experiences, and or just have reached out to share a story or 2 on Eric. He had an impact on us all, and his legacy lives on.
Next weekend, my wife and I will be lining up to race the Leadville 50. This is the 1st mountain bike race of the summer, the 2nd leg in the 3 4 E challenge, and a great trainer for the Leadville 100 next month. I've had the opportunity to do this race in the past, and it's a crusher: 50 miles, mostly between 10,000 & 12,000 feet, 8ish-thousand or so feet of climbing, and some of the most rugged terrain in Colorado. Thunderstorms and cramping are not really a matter of if, but when. It's going to be a blast.
Here's a quick video update that we did last week on a training ride over in Leadville that sums up where things stand:
If you haven't reached out with a pledge, and are interested, please simply email me at lukebrosterhous@gmail.com. All $$ raised will go directly to the Eric J Brosterhous Cancer Fund. In the meantime, get out and ride, run, ski, live, love &  give a shout out to the big E upstairs from time to time.