Hello all,
We are well on our way to raising some significant $$ for Eric's foundation. Thank you to all of you that have reached out and pledged support for our efforts to raise $$ & awareness for Brain Cancer research, in honor of Eric Brosterhous. If you have pledged support for our 230 Mile project, you can click on the link at the bottom of this post to donate directly to Eric's foundation.
We are closing in on the crux of our project: The Leadville 100, on August 14th. My wife Erin and I completed the Leadville 50 last weekend. It was a great event, an awesomely beautiful day. I was incredibly proud of my wife as it was her first 50 mile solo Mtn. bike race., and she crushed it.  Spending time with her in the mountains is always a good thing. Training & preparing for the 50 was no exception. The race was a grunt, but I felt good. I thought about Eric a lot in the 5 hours & 20 minutes it took ascend 7,000 ft over 50 miles at 11,000 ft above sea level.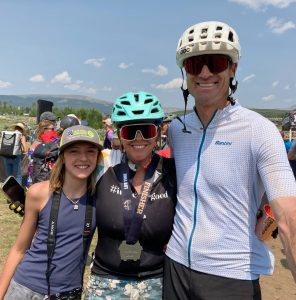 My brother Craig and I are finishing up the last few weeks of our training for the 100, and the reality of the effort is setting in. I can't wait to spend the day with he, and our families, high in the Sawatch Mountains. A special thanks to Brian Feddema, owner of Cycles of Life in Leadville, CO (the best bike shop in Colorado, period). A friend for a long time, and an amazing person, made entry with my brother Craig into the notoriously difficult race to get into, a reality.
Yesterday was Eric's birthday. I know that somewhere he played some golf, had a nice dinner with friends, followed with a nice whiskey and some quick witted humor directed at Patrick Reed. (He would be so riled up knowing that Patrick Reed got into the Olympics via Bryson DeChambeu's positive COVID test). Eric took exception with those that didn't go about it the right way (see Patrick Reed). His loyalty, which attracted so many friends, was anchored in the simplicity of just doing the right thing. He never wavered on that front. Even if it meant significantly more effort and struggle, it was never a question. An example of that was years ago when I flew home to Oregon unexpectedly to attend an emergency. Eric was busy working full time, fighting cancer, begin a good husband, and the last thing he should have been doing was ferrying me to and from the airport. Not only did he do that, but he went out of his way to make sure I had everything I needed, including his car for a week, filled with gas, and routine check-ins to see what I needed. That was just how he rolled. When you were around his orbit, he tended to you, and in a way, he took on your burdens.
Last week, 2 of my good friends and I broke away from the grind for a quick over night down to Leadville for some training rides. We didn't have a ton of time, but we made the most of it. Time high in those mountains down there is special, in any amount. The crux of the Leadville 100 is a 3,000 foot climb that starts around 10,000 ft. It ends spectacularly high above tree line at a place called "Hope Pass".  We slogged our way up, switchback by switchback. At the top we were rewarded with panoramic views of the Mt. Massive & Mt. Elbert, the two 14,000 ft. guardians of the Sawatch Range.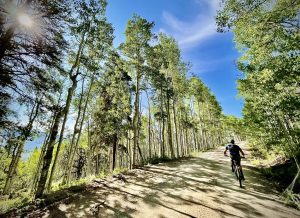 .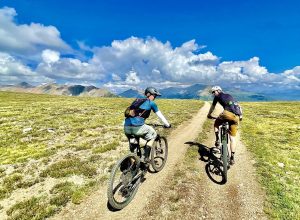 Big efforts & big vistas tend to prompt reflection. I thought that day a lot about the burdens we are all carrying, and what we do to mask and/or move away from them. . .who we have, or don't have around us to help us absorb them. Big or small, they are there. Scars, heartache & struggle. They linger, and take time to digest.  At times, we choose to run (or ride) to get further from them. An option we have, and don't use enough I think, is to just look at them. The last year or so, this has been a healing revelation for me of sorts. Just to be quiet when the pain comes, look it square in the eye, and let it subside.  As one of my favorite bands that Eric and I loved to talk about, Uncle Lucious sings:
"The fear is rising up, the only way around is to go into it straight, feel it with your senses, and let it flood, then fade away".
We sat on top of Hope Pass that day and watched the clouds day flood in, and slowly fade away. It was a good day in the Mountains, and one I will remember for a long time.

Thank you for your support. If you have pledged support, or would like to, you may kindly use this link to donate: Eric J Brosterhous Cancer Fund